Category Archives:
Uncategorized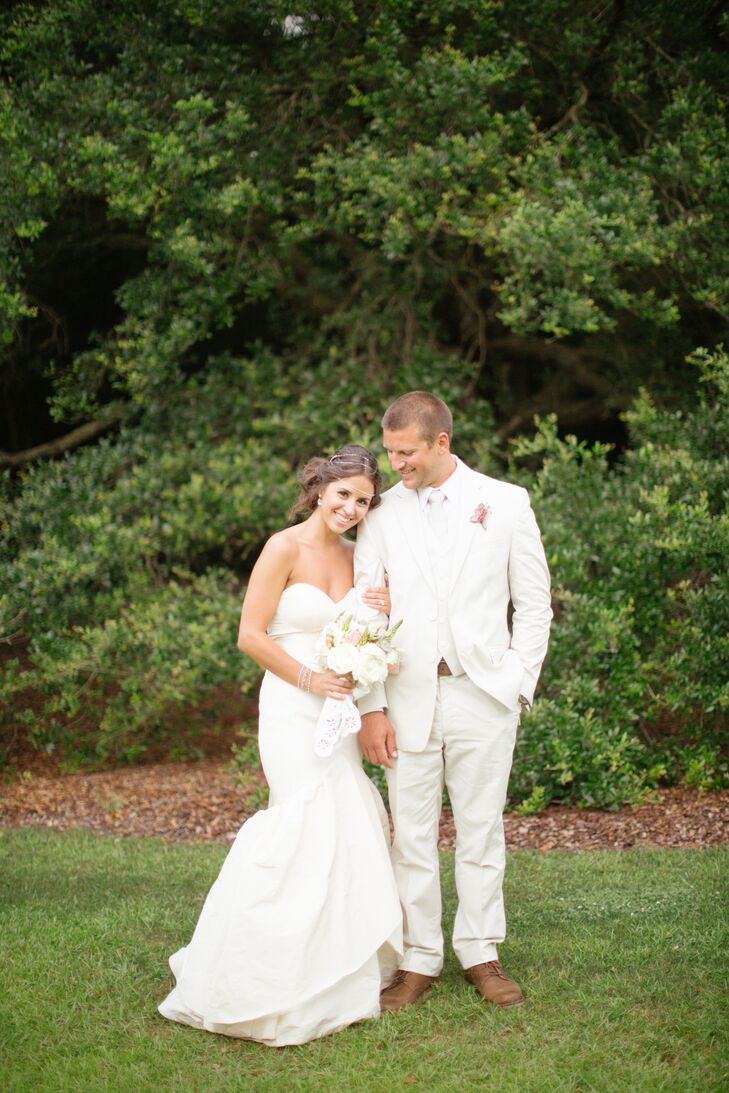 Bebe Jolly (27 and a teacher) was visiting another guy at Virginia Tech when she first met Austin Tempest (27 and in construction management). They reconnected that summer and immediately started dating—within two weeks Bebe was already going on Austin's family vacation! Austin popped the question six years into their relationship during a trip to visit Bebe's family for Easter. "I woke up to my eleven year-old brother making me French toast—he knew about the impending proposal so I guess this was he way of saying that he approved—and then we headed down to Folly Beach," says Bebe. "I'll never forget walking on the beach and realizing Austin was slowing down, I knew then he was going to propose, and I started to get butterflies!" After their waterfront engagement, it only felt natural for Bebe and Austin to invite guests to a summery affair at The Island House on Johns Island. "Austin and I are both from the Charleston area, so we knew we wanted to get married somewhere close," says Bebe. "The Island House was perfect— it had a huge white tent, a field of zinnias and giant oak trees all overlooking the Stono River." Drawing from their summer date, the couple worked with a light color palette of blush, white and green. Bebe carried a soft pastel bouquet filled with flowers grown in her aunt's yard (including the succulents!) wrapped in a blue monogrammed handkerchief. A large wooden cross covered in pink garden roses served as a backdrop for the waterfront ceremony followed by a festive tented reception. "We wanted to make sure all of our guest had a great time, and we felt like music plays such a critical role in ensuring that happens," says Bebe. "Our DJ started with Motown and worked his way to Fitz and the Tantrums!"
Vendors
 

CHARLESTON I DO

 

A JOLLY OCCASION

 

LOBOHEME

 

SOUTHERN GOURMET CATE…

 

PALMETTO STRINGS

 

PAIGE'S PAPER
The Island House on the Stono River – blog post by Rick Dean Photography
CLICK HERE to see the full blog post and wonderful boasting photos of our venue!
Have you ever fallen in love with a photo of a cake or a bridal bouquet, and want to know what local vendor made them? Check out Borrowed & Blue's website. Look us up for 11 Island House weddings featured on their blog, complete with a list of the vendors from each wedding, so you know exactly who to contact! How's that for inspiration?!
Johns Island's Own; The Island House, Wins a WeddingWire Couples' Choice Award® 2015 – FIVE years in a row!
Johns Island, SC – January 15, 2015 – WeddingWire, the nation's leading online wedding marketplace, named The Island House as a winner of the prestigious WeddingWire Couples' Choice Awards® 2015 for Ceremony and Reception venue in Charleston, SC!
The WeddingWire Couples' Choice Awards® 2015 recognizes the top five percent of wedding professionals in the WeddingWire Network who demonstrate excellence in quality, service, responsiveness and professionalism. The esteemed awards are given to the top local wedding vendors in more than 20 service categories, from wedding venues to wedding photographers, based on their professional achievements from the previous year.
While many industry award winners are selected by the host organization, the WeddingWire Couples' Choice Awards® winners are determined solely based on reviews from real newlyweds and their experiences working with The Island House. Award-winning vendors are distinguished for the quality, quantity, consistency and timeliness of the reviews they have received from their past clients.
"It's always exciting to start the year by honoring the top-rated wedding professionals within the WeddingWire Network who represent more than two million reviews on our website," said Timothy Chi, CEO, WeddingWire. "Each of the businesses recognized are committed to quality, professionalism and all around top-notch service. We applaud The Island House for their impressive achievements within the wedding industry."
As a Couples' Choice Awards® winner, The Island House is highlighted within the WeddingWire Network, which is comprised of more than 200,000 wedding professionals throughout North America and abroad.
The Island House is proud to be one of the top venues in the WeddingWire Network, which includes leading wedding sites such as WeddingWire, Project Wedding, Brides.com, Martha Stewart Weddings, and Weddingbee. We would like to thank our past clients for taking the time to review our business on WeddingWire. We value all of our clients and truly appreciate the positive feedback that helped us earn the WeddingWire Couples' Choice Awards® 2015.
For more information about The Island House, please visit our WeddingWire Storefront today at http://www.weddingwire.com/biz/the-island-house-johns-island/8d4a4a03c39daa78.html.
To learn more about the Couple's Choice Awards®, please visit www.weddingwire.com/couples-choice-awards.
New Year, new website!
We hope all of our brides love our new, clean, mobile friendly website! Our new year's resolution every year is to create more memories! This year in addition to our resolution, we will be sure to share all of our favorite memories with you by posting in our blog.
Check back often and cheers to a sparkling new year!